Ricardo García Mira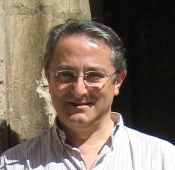 People-Environment Research Group
Researcher
Ricardo García Mira, PhD, Full Professor of Social and Environmental Psychology at the University of A Coruña, Spain (1995-).Coordinator of the People – Environment Research Group.Visiting Reader of the Department of Psychology, University of Surrey, UK (2003-2012). International Visiting Scholar at Texas State University, USA (2001). Visiting Professor at the University of Tallinn, Estonia (2002), West University of Timisoara, Romania (2005-2007), UNAM, Mexico (2006), and Federal University of Ceará, Brazil (2012).European Editor of the Journal of Architectural and Planning Research, member of the Editorial Board of: Journal of Environmental Psychology, Psycology. Member of the Board of IAPS (www.iaps-association.org) 2000-2008, where he is currently the elected President for 2014-2018.He has experience in leadership and management of research projects under the sponsorship of the Government of Galicia, the Spanish Ministry of Education and the European
Commission. Coordinator of the FP7 project LOCAW "Low Carbon at Work" (2011-2013), as well as the FP7 project GLAMURS "Green Lifestyles Alternative Models Upscaling Regional Sustainability" (2014-2016).
Some recent books:
"Culture, Environmental Action and Sustainability" (2004, Hogrefe);
"Housing, Space and Quality of Life" (2005, Ashgate);
"Sustainability, Environmental Values and Culture" (2009, Pirámide);
"Readings on the Prestige Disaster: contributions from the Social Sciences" (2013, IEIP).