Jens Dorland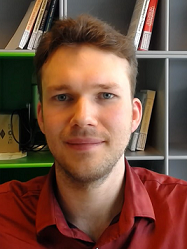 AAU
Researcher
On TRANSIT, I have as a scientific assistant taken part of the fieldwork and analysis in the case study of the international science shop network Living Knowledge, as well as the two local cases in Denmark and Romania. During this case-study I was accepted as a PhD student in transformative social innovation in December 2014. I will also take part in the cross-case comparison (D4.2).
Working life
I started working at Alborg University in autumn 2012 with the aim of continuing the project from my master thesis by using it for a research application as part of Aalborg's MADE program (Manufacturing academy of Denmark). At first, I was employed for 6 month at the Centre for Development, Innovation and Sustainable Transition. I initially focused on organizational development and innovation in small and medium sized production companies in Denmark, but later moved on to the challenges said companies faced due to globalisation and rapidly developing technology. Later, I was hired to work on two EU projects, Plastic Zero and PERARES. In PERARES (Public Engagement with Research and Research Engagement with Society), I assisted in organising a scientific conference in Copenhagen April 2014, where I had a responsibility for planning, managing documents, and publishing an abstract book. In Plastic Zero, I did research, field work, and was responsible for writing the Road Map for the project together with Copenhagen city. In the job, I travelled around to the different partners in Finland, Latvia, Sweden and Germany, as the representative from AAU, where I together with our project partner from Copenhagen City consulted the local partners on conducting fieldwork and user involvement. Working with waste value-chains especially proved a challenge and became a focus of the road map.
Educational background
I have a Master of Science in Engineering, specialized in Design and Innovation, a program that partly built on STS (Science, Technology and Society) using ANT (Actor Network Theory) and SCOT (Social construction of technology). My master focused specifically on organizational culture and change. I also had an interest in technological development though, and took several courses related to technology in organizations. My master thesis was a 55 ECTS point project, including two special courses on sociology and ethnography, and so took around one year to complete. During that time, I conducted a large ethnographic case study of 50 small and medium companies and combined it with quantitative data, in order to study and understand the culture among small production companies in Denmark and the challenges they faced in relation to globalisation and the rapid technological development.