From Information on Social Innovation (in Europe) to Knowledge on Transformative Social Innovation Theory
By Nigel Browne (IHS, Erasmus University Rotterdam)
The TRANSIT Resource Hub has been online since end of July 2014.
From its very beginning it aims to be a place to collect and share information on Social Innovation (mainly in Europe) that is useful to further the TRANSIT project's objective of developing a theory of Transformative Social innovation. It has always been developing and evolving. Initially it sought to collate on-line resources dealing with various aspects of Social Innovation (general theory, European policies, measuring Social Innovation, financing Social Innovation and governance issues around Social Innovation). Apart from linking to on-line material and bringing it together in one place it also aims to provide materials that are not only purely academic but are of practical value, such as tool kits, guidelines, training resources, in other words things that would be of particular use to practitioners.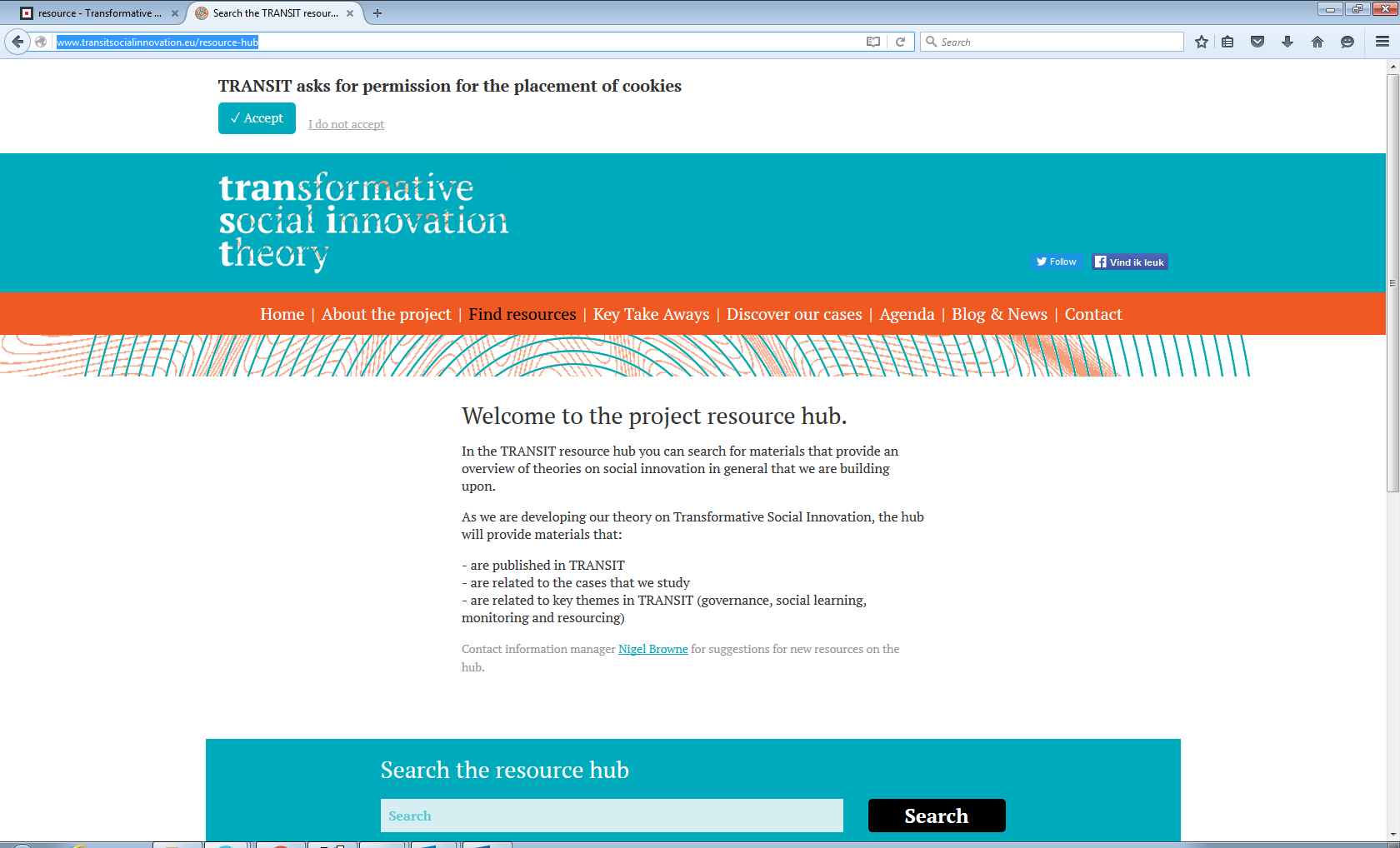 More TRANSIT Output
Over the last year the content of the Resource Hub has gradually shifted. Currently fewer items are being added to the Resource Hub that relate to European Social Innovation policy and research as found in other similar EU Social Innovation research projects. Instead TRANSIT output represents the primary content source for the Resource Hub. This expected to continue to grow as the project progresses.
Complementary Materials still of Interest
Although the above shift is a natural part of the project, we are still keen to include other relevant materials that may complement TRANSIT outputs. In particular we are interested in publically available documents of practical value to practitioners that may enhance the activities of the TRANSIT team. In particular materials dealing with topics such as Social Innovation policy, capacity building (training/tool kits/guidelines), financing and governance issues or even interesting case studies on Social Innovation that have not been (fully) covered by TRANSIT…
Suggestions can be sent to me at the link given below.
Nigel Browne (Information Manager)