Ecovillages: isolated islands or multipliers of social innovations?
By Iris Kunze (GWN, BOKU)
The term 'ecovillage' was first coined in 1985. It is used since then to describe an ecological oriented kind of so called 'intentional community'. Intentional communities are self-governed local communities or villages in which people are living and working together on shared properties. Ecovillages were founded in industrial countries in relation with the ecological movement. While the core intentions, purposes and motivations may differ in each ecovillage, they all have one crucial feature in common: By experimenting with new forms of sustainable living, governance, economy, education and everything that can be done in a newly founded village, they serve as incubators for social innovations in many different fields.
Moreover, ecovillages are particularly interesting social innovations. They are often carrying on the principles of intentional communities of self-sufficiency and self-organization. Nevertheless, today's ecovillages follow a different strategy, which makes them more innovative then many other intentional communities: Present day ecovillages intend to combine social supportive aspects in society with a small-scale approach of community living; they are more service-oriented, strive for a stronger commitment of their members and have become more structured and organized over time.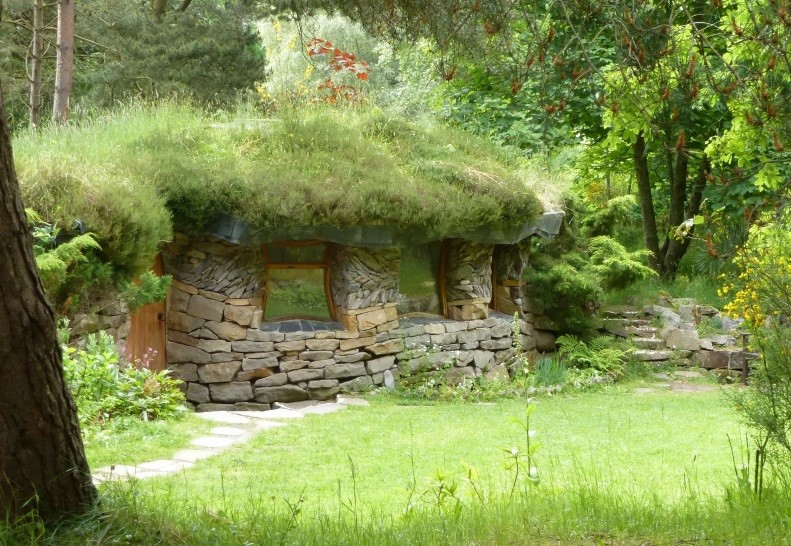 Nature sanctuary in Findhorn Ecovillage, Scotland (photo: Iris Kunze)
Ecovillages are highly innovative because they have created small-scale experimental models for finding integrated solutions to burning societal challenges which take into account almost all areas of life. The resilient and trustful community at the heart of an ecovillage serves as a fundament for developing new practices. This is happening in multiple fields with intended synergies at the same time. For instance, many ecovillages have introduced novel governance and ownership systems, self-sufficient local economies, unconventional education systems and schools, cross-generational housing, as well as sustainable infrastructure, energy and mobility solutions. In result, they invite their members to try out a whole new individual lifestyle. However, the ecovillages I describe are not isolated islands, scientific laboratories or utopian heavens, but real neighbourhoods, where people live their daily lives. Some ecovillages have recently celebrated their fortieth or fiftieth anniversaries. So are these ecovillages 'islands of the blessed'? When we have a closer look, the picture is more differentiated. In fact, ecovillage life, despite its idealistic dimensions, is also hard work and requires considerable flexibility, engagement, and self-reflexivity.
Moreover, the practices which have been developed and established over the years do not remain inside single ecovillages. The fact that their innovations spread in three different ways shows that ecovillages are multipliers for a large number of sustainability innovations. First, the majority of ecovillage inhabitants, who generally live in those villages for several years, fundamentally transform their lives and way of living towards more sustainable and more collaborative practices. When after a while they move (back) to other cities, they carry on these practices to their new living and working environments. Second, the larger ecovillages run education centers with several thousand visitors per year. They offer courses on multiple topics such as ecological gardening, eco housing, community building, conflict resolution as well as arts or personal development. And third, media interest in workable approaches to sustainable, joyful, inclusive living has increased enormously during the past years, which might also be due to the specific needs of an aging society.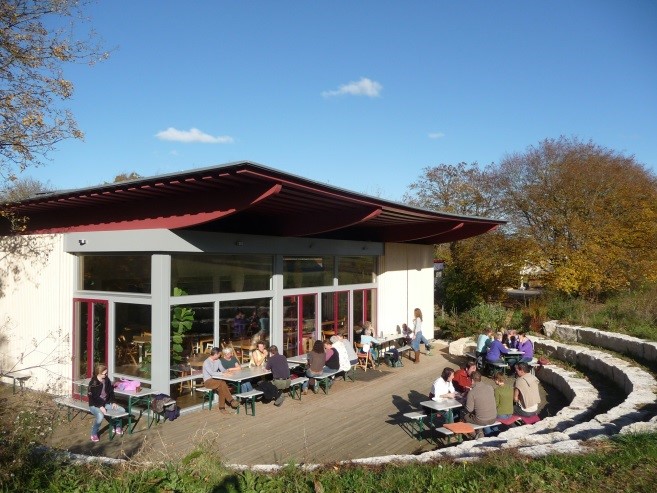 Village Cantine in Schloss Tempelhof: ecological renovation of a sports hall (photo: Iris Kunze)
Most ecovillages do not remain individual initiatives but come together in the Global Ecovillage Network (GEN). GEN was founded at a conference held in Findhorn ecovillage in Scotland in 1995 where ecovillages from all over the world came together. Today GEN's website lists more than 1000 local ecovillage projects and networks worldwide, among them around 130 in Europe. GEN does active networking between ecovillages and disseminates information between and about them. It runs education programs, some of which especially target political organizations like the EU and UNESCO. And it includes both newly founded villages emerging out of the environmental movement and traditional villages which aim at ecological and holistic restauration. GEN has created a vibrant forum for mutual learning between communities from both rural areas in industrial countries and from traditional villages in 'developing countries' which have a lot of ancient wisdom around natural living to offer.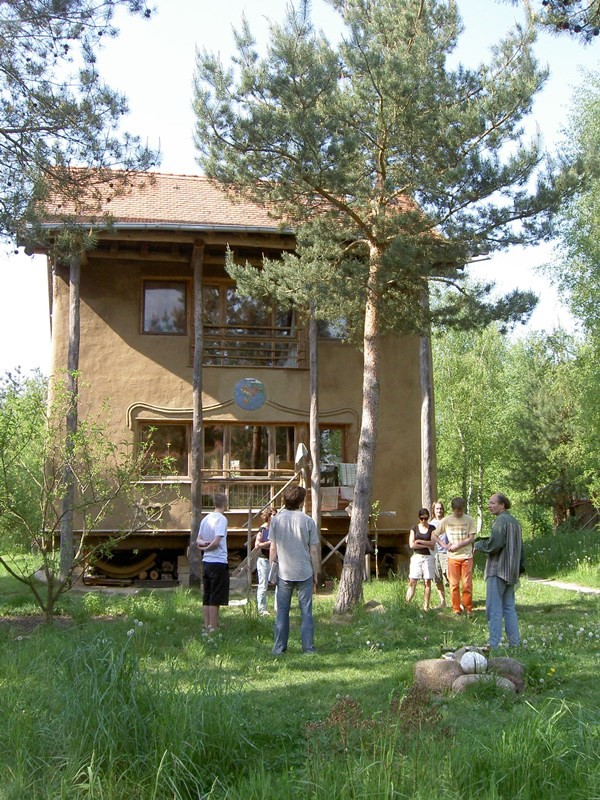 Visitors tour in ecovillage 7Linden in front of a zero-emission straw bale house built without any machines (photo: Iris Kunze)
I want to conclude with the observation that the number of ecovillages in the world might be marginal, but ecovillages multiply their practices through individual experience and life style, which is probably the most sustainable way of dissemination.
You can discover TRANSIT's research on this case here: http://www.transitsocialinnovation.eu/resource-hub/global-ecovillage-network-gen
You are welcome to visit my website for more information: http://www.community-research.eu