Social Innovation 2015: Pathways to Social Change - Research, policies and practices in European and global perspectives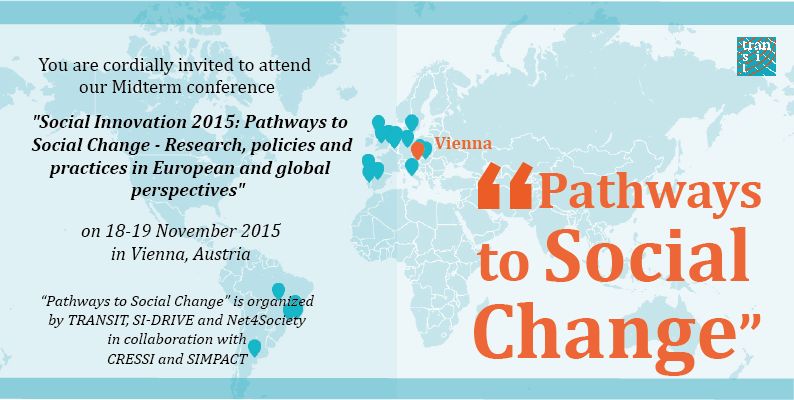 We are honoured to invite you to our midterm conference that will be held in Vienna!
We invite social innovators and entrepreneurs, policymakers, intermediaries and researchers from all over Europe to take part in this interactive exchange in the Central-European hub of Vienna.
If you don't want to miss out on the opportunity of meeting practitioners and researchers from all over Europe and their latest insights from theory and practice of social innovation and transformative social innovation, then meet us this Fall in Vienna. By joining us, you can share your view, learn about others' practical insights and explore with us the exciting borders of conventional practice and research in social innovation.
"Pathways to Social Change" is organized by TRANSIT and SI-DRIVE in collaboration with CRESSI and SIMPACT
Sessions, meetings and presentations of interim research results focus on:
The state-of-the-art of conceptualizing and doing social innovation
Methods and good practices to create desirable social change
Resources, means and levers making social innovation processes effective
International comparison of social innovation practices, policies and research
The conference is hosted by two projects under the EU 7th Framework Programme (Call "Social innovation – empowering people, changing societies"):
Social Innovation – Driving Force of Social Change (SI-DRIVE),
Transformative Social innovation Theory (TRANSIT)
and Net4Society, a network of National Contact Points in Horizon 2020.
They are collaborating with:
Creating Economic Space for Social Innovation (CRESSI),
Boosting the Impact of Social Innovation in Europe through Economic Underpinnings (SIMPACT).
For the programme please click here.
For registration please click here.
For information on hotels please click here.